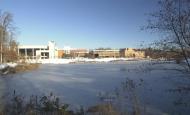 College of Science

Home
Students
Research
Simulation gallery
Publications
Teaching (Courses)
Data archive
├ Field data sets
└ Laboratory data sets
Annual conference
Computing resources
Related links
About our webpage
Contact us


Data archive
There is a need for a standardized set of field and laboratory datasets to be used for model development and evaluation. We have been collecting, archiving, and quality assuring both field (local-scale to mesoscale) and laboratory scale atmospheric transport and dispersion datasets to be used in model development, evaluation and uncertainty analysis studies. The arechived datasets inventory and their current status are listed below. In order to obtain any data set, please contact us.

ACURATE (Atlantic Coast Unique Regional Atmospheric Tracer Experiment)
ANATEX (North America Tracer Experiment)
BARREL
Birmingham
Bull Run
CAPTEX (Cross Appalachian Tracer Experiment)
Chesapeake Bay numerical modeling experiment, 2001
Data by R.W. Macdonald and C.E. Ejim
Dense Gas MDA (Modeling Data Archives)
DOE VTMX/CBNP Salt Lake City (SLC), 2000
DP26 (Dipole Pride 26)
DTRA Phase I
EMU
ETEX (European Tracer Experiment)
FLADIS
Indianapolis
INEL74
Kincaid
Kit Fox
LA 2001
LMOS (Lake Michigan Ozone Study)
LROD (Long-Range Overwater Diffusion)
Metropolitan Tracer Experiment (METREX)
MVP (Model Validation Program)
OKC80
OLAD (Overland Alongwind Dispersion)
OTAG (Ozone Transport Assessment Project)
Other datasets used in the alongwind dispersion paper
Prairie Grass
REDIPHEM (Review and Dissemination of Physical Effects Models)
SARMAP (San Joaquin Valley Air Quality Study, Regional Meteorological and Air Pollution)
SMEDIS
TRAPOS (Program for Optimization of Modeling Methods for Traffic Pollution in Streets)
EMU
Data by R.W. Macdonald and C.E. Ejim
The Mock Urban Setting Test (MUST), 2001
---
See the contact page for detailed information on contacting us.